GENUINE REVIEWS BY A MUSICIAN AND TEACHER
Website: www.learnandmaster.com
Price $249.00
Skill Beginners To Advanced
Customer Service Yes
Money Back Guarantee Yes
Delivery International
Payment Plan Yes
Payment Method Credit Card
Learn To Play The Piano With Learn And Master Piano DVD Course With Will Barrow
Before I start this review, I just want to mention a couple of things. First, Learn and Master Piano is not a software download, you don't need a computer to use it and there is nothing technical to set up. In fact all you need is a DVD player and a TV and a piano of course.
Second, I will give you my honest review based on my experience as a piano teacher and my personal impressions of this course without the hype, just plain talking. I will also give you my recommendations as to who will benefit from this course.
So let's get to the full review. I received my review copy of Learn and Master Piano 5 days after I ordered it, which is not bad considering I live in the UK and the course, is sent from the US. The course comes well presented in a very professional looking binder and contains:
Fourteen DVDs
Five Play Along CDs
One Lesson Book
The Learn and Master Piano DVDs
Each DVD contains two sessions and two workshops. Each session is broken down in to mini sessions or you could call them lessons. Each mini session is accessible on your DVD player using chapters, or you can go back to main menu and choose which mini session to play. Think of the complete session as a teacher giving you a piano lesson as a real teacher would, the only difference being, that with this course you can keep going back to parts of the lesson (mini sessions) you would like to see again.
Linked to each session is a workshop. Again, this is split up in to mini workshops. Think of the workshops as your practice time. This is where you will practice the concepts that Will Barrow showed you in the session. The learn and master workshops are an important part of the learning process and Will Barrow goes in to more detail, guiding you carefully through your practice.
At the end of the workshop there is a section called "Your Ready To Move On When". In this section, Will tells you what you need to accomplish before moving on to the next session. Everything in the sessions and the workshops are laid out in an easy to follow manner, easy accessible by chapters or DVD menu and split screen video showing you exactly what to do.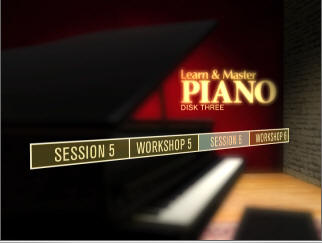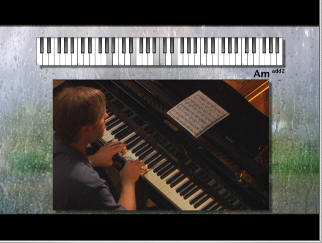 The Learn and Master Piano CDs

Learn and Master Piano  also contains five audio CDs. This is the fun part for every player because you get to play with a band, it's not a big band, it consists of a drums, guitar, bass and keyboards, but I promise you this, you'll enjoy this bit. This is where you will appreciate you efforts and practice when you can play along with the music on the CDs. The music on the CDs is linked to the music in your lesson book, so when you have practiced a piece, just set the CD to play the song you have practiced and away you go. The great thing about these CDs is they will also play in your DVD player and play through your TV. Its very simple but also effective.
The Learn and Master Piano Lesson Book

This book contains all the songs and exercises that appear on the Learn and Master Piano DVDs and CDs. Using this book will help you to read music and understand what you are playing. The book is laid out in sessions to match the DVDs so everything clicks together nicely.
Ease of use
Providing you have a piano a DVD player and a TV, you should find learn and master piano very easy to follow. It is without doubt the closest thing to having a real teacher with you all the time.
Customer Service
You can contact Legacy Learning Systems direct via email with your question or you can join the Student Support Discussion Board, which is free. You can ask questions or just read what others are asking. You might find that other learners are asking the same questions as you and of course, everybody in this discussion board is in the same boat as you.
Your Guarantee
If you are not happy with course within 60 Days, you can return the course for a full refund. This kind of guarantee is pretty much standard now for upper end piano courses.
Learn and Master Piano Course Cost
When you compare the cost of learn and master piano with private piano lessons there's no contest. For 12 months of private tuition you will pay up to $2000 based on a weekly lesson cost of $40 per half hour. When you consider that this course will provide you with up to 2 years course work for $249 you can see what a massive saving you will make.
Learn and Master Piano Cost Saving Tip
From time to time throughout the year, Legacy Learning Systems have a sale on all their products. Its worth checking out because I have seen as much as $100 off the Learn & Master Piano course.
Who Will Benefit From Learn & Master Piano?
• Complete beginners
• Players who want a refresher course
• Retired people
• Shift workers
• Children (helped by a parent)
• Anybody looking for a hobby
• And everybody who has a piano that's not being used
If you recognise yourself in the above groups, then this is the course for you. You're obviously serious about learning to play so now's your chance to get started.
Mikes Conclusion
Learn and Master Piano is without doubt a high quality well thought out piano teaching course. Its job is to teach you how to play the piano and it does this wonderfully. The teaching method is clear and concise; you don't need a computer, which will suit a lot of people. Will Barrow is a great teacher and doesn't bombard you with anything technical at all, his teaching style is very infectious and entertaining and you might almost think he is in the room with you.
By now, I'm sure you realise how this piano course will help you to play the piano. If you're serious about learning to play, don't miss out on this opportunity, especially if it's something you've always wanted to do.
Mikes Rating
5/5